Galbreath Farms is a family run grain and livestock operation in southeastern North Dakota. It has been in operation for over 100 years.
Currently the operation consists of 4000 tillable acres on which corn, wheat, and soybeans are grown.
In our cattle operation there are 400 head of females calved out each spring. In the cow herd there are 100 purebred Shorthorns and 300 commercial cows which we use in an extensive ET program.
Along with our Shorthorns we also have 25 purebred Red Angus cows that raise Durham Red calves for us each year. Although we have only been raising purbred Shorthorns for 10 years, we have put together a great herd. In the spring of 2009 we purchased the entire Gordon Brockmuelller spring calving herd. Our cows emphasize on production, soundness, and cattle that are easy fleshing because we need cattle that will stand up and produce for years to come.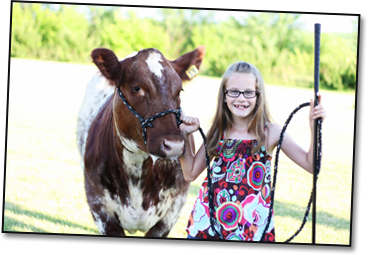 We also run a large hog program with which we are highly involved with 4-H and junior point shows throughout our state.
Our current partnership includes parents Duane and Connie; oldest son Ryan with wife Shannon and daughter Lindsey; only daughter Billie Jo with husband Shawn and daughter Haley; and youngest son, Danny.
Upcoming:

Minnesota Shorthorn Sale
March 5, 2023 in Cannon Fall, MN
Click here to view consignments